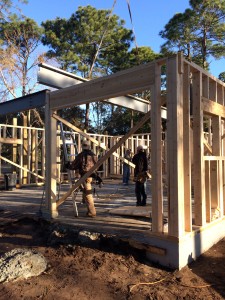 Finding the right lender is a vital beginning to home ownership. Before ground breaks or a builder is selected a lender is needed. It is important to get pre approval with a lender prior to setting your budget to see what you will qualify for or how much house you can actually afford. It is also good idea to have the lender give you the basic requirements necessary to secure financing, so you are prepared.
One of these requirements will be to have a licensed contractor. As a licensed contractor, Moore Development can guide you to a competitive lender. We are accustomed to working with various lenders and loan types and can make the process as straightforward as possible.
When financing the construction of your new home, the options will vary a great deal. Part of shopping for a lender is comparing the available programs to see what will work best for your situation. Often times a lender will have opportunities for Construction – Perm Loans or Construction Only Loans. The advantage to doing a Construction Perm Loan is that you have one closing with one set of closing fees and you already have permanent financing in place. However, if you run over budget, you will need to come up with additional funds or take a second loan. The benefit to doing a Construction Only loan is you are able to shop around for a permanent loan, and you can modify the loan amount should you go over budget. The drawback to a construction only loan is there are two closing with two sets of fees and you could have difficulty finding permanent financing. Finding a lender who will work for you to get the best deal is essential.
Don't forget Moore Development is ready to be your resource and solution to building your new home